In November 1983 the first wrinkled exotic came into our family. Then as now I was fascinated by the charm and the above-average intelligence of this breed. I have over 35 years of experience in dog keeping, breeding and sports. Of these, 27 years with the Shar-Pei breed. Intensive study of genetics and constant genealogical research are a matter of course. Since this is my hobby, I occasionally have puppies for sale. Our puppies are intensively influenced by the people and the modern environment; they grow up with full family connection.
I would like to take this opportunity to introduce myself to you personally.
I am a chemical laboratory assistant by profession. After my training I started breeding dogs with my first husband. But breeding alone was not enough. Since research is somehow in my blood, all available literature on genetics, dog medicine and breeding has been acquired over the years. Learning will never stop as a breeder.
I was a member of the 1st DSPC from 1991 to 2004. During this time I advised and supported the breeders. As an editor, the "Die Blaue Zunge", I provided the readers of this magazine, 7 years (end of 1996 to 2004) in 30 issues, with the best possible information about our breed.
Since 1994 I was a member of the breeding committee of the 1st DSPC.
In 1999 I was awarded the VDH Silver Pin of Honour.
In 1998 I started an apprenticeship as a Shar-Pei special breeding judge, which I finished in 2000 with a successfully passed examination.
For 2003 I was invited to judge the bitches at the World Dog Show in Dortmund.
In 2005 I became a member of the Club für Exotische Rassehunde (CER e.V.). As breeding manager for Shar-Pei I extended my knowledge about the other breeds, which are cared for by the CER.
The CER e.V. took me over as a special breeding judge for the Shar-Pei breed. Since 2012 I am the breeding manager of the breeds Xoloitzcuintle, Thailand Ridgeback, Chinese Crested Dog, Perro sin Pelo del Peru and Shar Pei. The club magazine CER-INTERNATIONAL and the website are platforms for information about our CER e.V. breeds.
In 2018 I was awarded the VDH Gold Pin of Honour.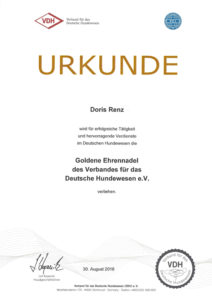 Since 1991 I am a member of the Chinese Shar-Pei Club of America. Here there is a lively exchange of information with the breeders. Since the gene pool in Germany is very small, I am very pleased that the cooperation with the American Shar-Pei Club and the breeding dogs which were sent to us by breeders there have influenced our breed positively in the further development. Only through these contacts I was able to breed the dogs as you can see them on my website.
It was a special honour for me to be invited to judge the BOB class at the Regional Speciality Show of Nationals in South Carolina in 2008.
My goal is to inspire other people for this wonderful breed and to help to ensure that this breed can be bred here for a long time to come.
Doris Renz
Phone: +49 6324-979723